Do you have a claim?

An accident or damage? What to do next?
We are happy to help you open your claim file and the various steps in the claim settlement process.
Report your damage via KBC Touch or KBC Mobile
Log in to KBC Mobile or KBC Touch and choose the domain for which you want to file a claim (in Mobile under 'More'): Home, Family, Vehicle or Business. Then select the insurance for which you want to declare a claim.
Need assistance?
Breakdown on the road or does your claim require immediate and urgent assistance? You can contact the KBC Assistance Call Centre (VTB - VAB) 24/7 at +32 (0)16 24 24 24.
What information do you need to provide?

To best help you move forward, we need this from you:
The date you suffered damage or of your accident
A brief description of the damage: water damage, broken glass, damage caused by fire, etc.
Photos and any other evidence proving the damage
Provide us with this information or provide it via KBC Mobile / KBC Touch or KBC call centre (016 24 24 24), and we will do the rest!
What to do after a car accident?
Send us as soon as possible:
The completed European accident report
Number of the report
Copy of your police report

Injured?

Consult a docter (emergency doctor or general practitioner)
Keep the medical certificates, make a copy of all doctor's and pharmacist's bills and an overview of all expenses
Did the accident happen on the way to work? Inform your employer!
Will you be summoned to the police court? Please provide us with:

A copy of the summons

Name and address of your lawyer (if known)

Copy of the statement of offence (which you will receive by mail after the offence)
Filling in the European collision form (ECF)
Thanks to the specific questions on the European collision form, insurers can quickly determine who is responsible for what.

Part 1: the front, which must be completed by both parties at the time of the accident.
Part 2: the back, which you must complete before you hand in the form to your insurer.
In the first part there are two separate sections (A and B, one for each driver), a central column where you put crosses accordantly and finally a box in which a sketch can be made of the accident.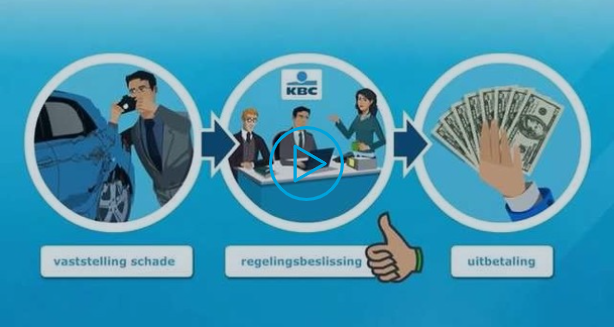 Hospitalization ?
You can file a declaration as of 3 months before the date of withdrawal, by easily entering it in KBC Mobile or KBC Touch or by calling KBC Assistnace at +32 (0)16 24 24 24 (working days from 8am to 12pm and from 1pm to 5pm).
Keep the following information handy :

Name of the person in your family whio will be admitted
AssurCard number (only when reporting to the call center)
Reason for hospitalzation
Name of the hospital
Date of hospitalization
Account number to which charges are to be reimbursed
You can report admissions in KBC Mobile or KBC Touch:
Such as childbirth, accident, surgery or treatment of an illness.
Only in rare cases should you call: such as a hospitalization abroad, a home birth or if your hospital insurance is not visible in the app.